Remember when he won a Jack Adams trophy?
The last two seasons have seen the coach of the year award go to coaches of teams that had incredibly lucky years, instead of actually going to the best coach. Two years ago it was Patrick Roy in his rookie coaching season going on a miracle run finishing with 112 points. The thing is, it was literally a miracle run. The Colorado Avalanche's score adjusted 5v5 CF% at the end of the regular season was 47.3%, not exactly what you'd expect from a 112 point team. They rode phenomenal goaltending and luck all season, which shows in their unsustainable PDO of 102.1. Predictably, they took a nose dive in 2014-15, finishing with 90 points and missing the playoffs.
What is PDO?
PDO is simply a team's shooting percentage plus a team's save percentage, which usually lands around 1000, but we'll call it 100 to make it easier. For example, if a team's save percentage is .920 and their shooting percentage is 8%, that team has a PDO of 100. PDO is the best statistic for predicting a team's future success. If a team is struggling, but riding a PDO of 97, you could reasonably expect better results on the way. If a team is riding a PDO of 102 – like the 2013/14 Avalanche – you should be expecting a nose dive in the future.
Bob Hartley and the 2014/15 Calgary Flames
Last season it was Bob Hartley and the Calgary Flames riding a high PDO in spite of bad possession numbers. As fun as they were – and still are – to watch, they finished the season with a score adjusted 5v5 CF% of 44.3%. That is horrible and very unsustainable. Like the '13/14 Colorado Avalanche, the Flames ran on a unsustainable PDO of 101.6. They also got a favourable first round match up of the Vancouver Canucks, but I won't go there. Bob Hartley was awarded with the Jack Adams trophy, otherwise known as the "we're not going to be very good next year," trophy. Predictably, they have come back down to earth this season and are sitting in 25th place in the NHL.
Colorado has somehow taken a step back in terms of possession
You would think with all the information out there these days that Patrick Roy and the Colorado Avalanche would have realized their flash in the pan season was exactly that. You would think that an NHL head coach would realize they have to make some major adjustments in terms of their on-ice structure. Not when you're dealing with a man as stubborn as Patrick Roy. The next season – 2014/15 season – the Avalanche managed to take a significant step back in terms of possession. They finished the season with a score adjusted 5v5 CF% of 42.7. 42.7%! The team never had the puck. It doesn't matter how much skill a team has – and the Avalanche have a lot of it – you're not going to win consistently when the other team has the puck all night, every night. They even had another year with a high PDO – 101.5 – but you can't be successful when you're chasing the game night in, night out. Yet, here we are in February of 2016 and Patrick Roy hasn't changed a thing. This year the Avalanche have improved their score adjusted 5v5 CF a whole .5%! Now they boast a CF% of 43.2! Terrible. Here is a visual of just how bad they are. An LA/COL game would just be the Kings playing keep away for 60 minutes of hockey.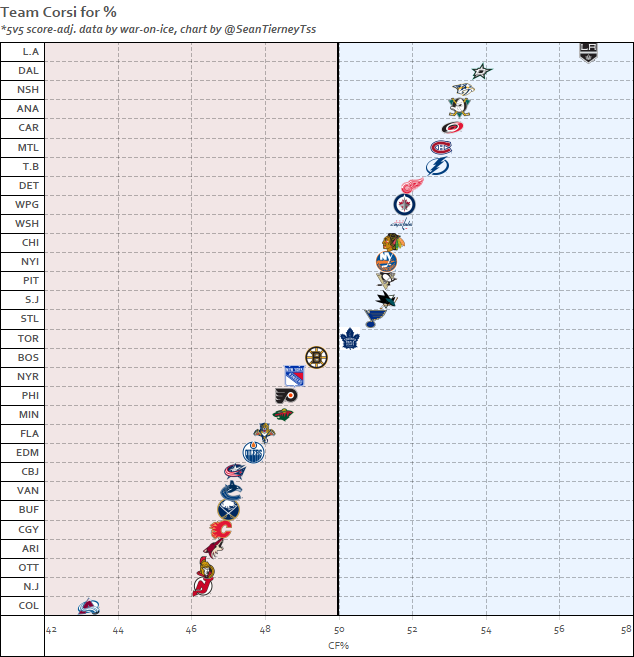 Joe Sakic factor
I realize that Joe Sakic and Roy are close friends, but the Avalanche will never be successful with Roy as the head coach. The way he refuses to adapt, no team will ever be successful with him behind the bench. Roy is still in denial that the possession metrics reflect his team's terrible play. Check out this article from November of this year. Instead of finally acknowledging that his team needs to drastically change the way they play, he tries to downplay the relevance of advanced stats. It's not very complicated. If the other team has the puck all game, you aren't going to be successful. The Avalanche might squeeze into a wild card spot, but they will never truly be contenders until Roy is no longer a part of it.